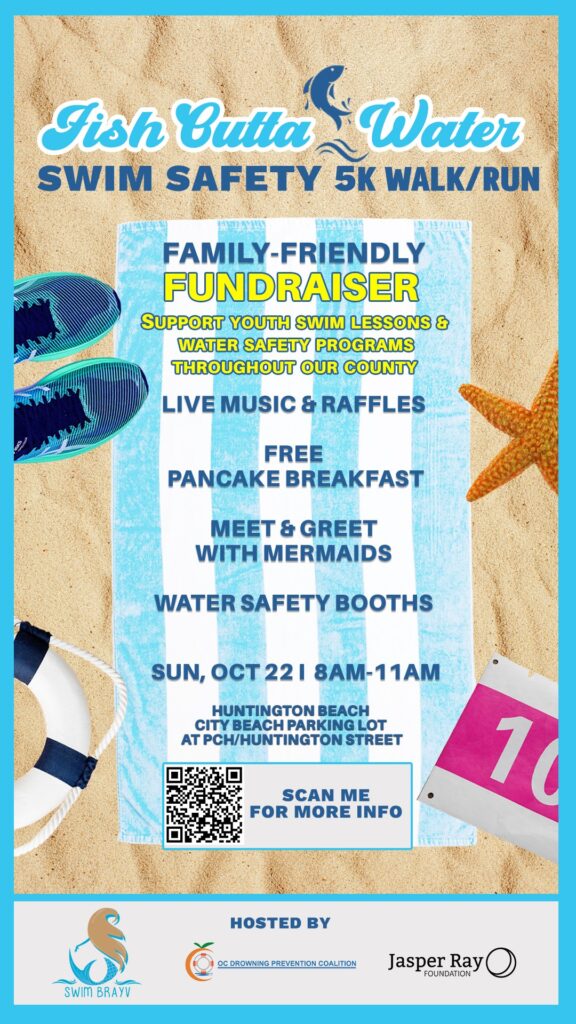 Generously Sponsored By:

T-Shirt Sponsor

Join us for our first annual 5K Fun Run which will support swim and water competency education for underserved OC families!
The Jasper Ray Foundation will be hosting a run on Sunday, October 22, 2023 from 8am-11am at Huntington Beach. (This is a fun run and it will not be timed. There will not be official results at the end of the race.)
Drowning is still the number one cause of death amongst small children. With swim lessons, children proportionally reduce their risk of drowning. This event will bring together our community to raise awareness around drowning prevention.
It's important to note, not all communities have equal access to life saving swim and water competency education. Funds raised will support reaching underserved OC families who would otherwise not have access to these resources.
Single runners have a suggested fundraising goal of $150.
Teams have a suggested fundraising goal of $100 for each team member.
You can create your fundraiser at this link.
Once you click fundraise, you can use a template that is provided or you can create your own. We encourage all people – singles and teams to fundraise with us!
Booth sales are available for $250 each.
Email info@jasperray.org for more information.
In addition, sponsorships are also available:
Run Sponsor $4,000
(exclusive)
Includes a booth
Address the crowd
Kick off the run
Website recognition
Social media mentions
Logo on all promotions
Shirt Sponsor $3,500
(one available)
Includes a booth
Logo on front of T Shirt with Title Sponsor
Website recognition
Social media mentions
Logo on all promotions
Booth Sponsors $250
(10 available)
Includes a booth
Website recognition
Social media mentions
Logo on all promotions
In Kind & General Donors
$1-$2,500
Website recognition
Social media mentions
Logo on all promotions